2021 Reason One Mentees - Where are they now?
---
Summary: When we first launched the Mentorship & Scholarship program, we wanted to support Black tech students that were bright, driven, and on a mission to make change. We couldn't be prouder of their journeys so far.
In 2021, Reason One launched our Mentorship & Scholarship program with one aim: to support the aspirations of Black students seeking careers in tech. The tech industry has a serious diversity problem in the US and Canada, with Black tech workers being by far both underemployed and underpaid, which is a detriment to both the industry and society. We wanted to help close that gap.
In our first year, we awarded scholarships and provided mentorship to six talented students: one student, Praise Eneramie, receiving a $10,000 scholarship, and the other five students receiving $1,000 each. In addition to funding, we also paired each student with members of our team for ongoing mentorship, coaching, and support.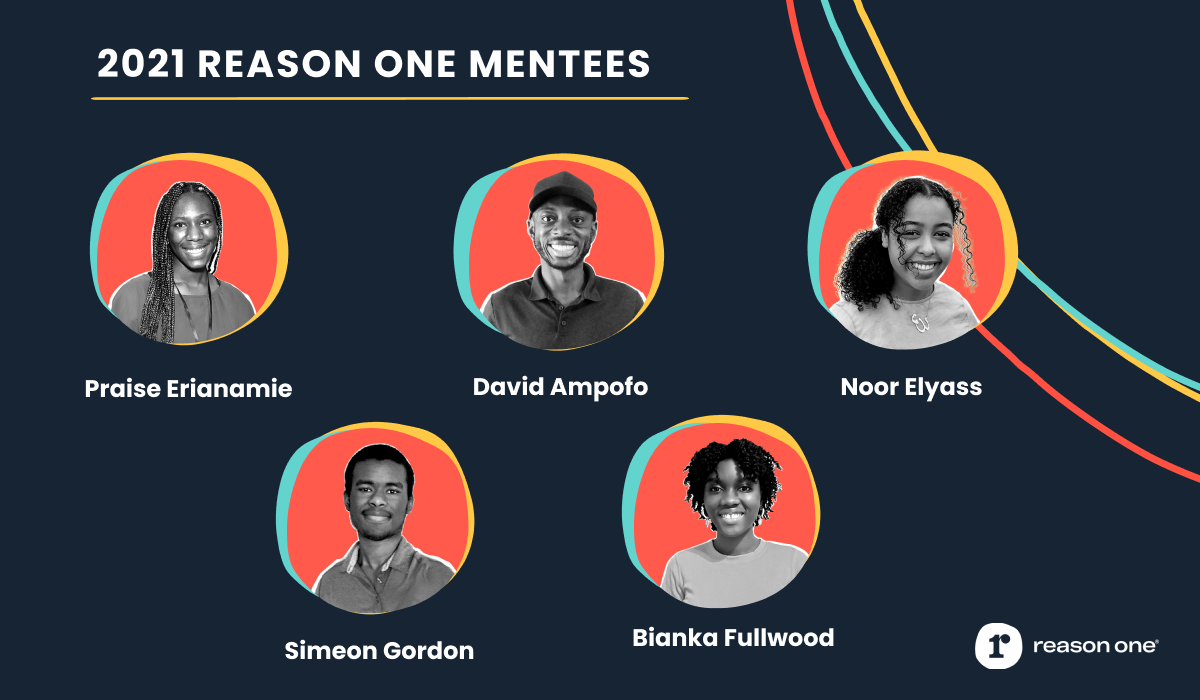 So, a year later, where are they now?
Praise Erianamie — Bachelor of Applied Science: Engineering, University of Toronto — Praise has completed the first year of her computer engineering degree, and landed a major internship with Amazon in 2022, for which she has been invited back in 2023.
David Ampofo – Computer Science, York University — David graduated with his degree in Computer Science, and has joined BMO on their DevOps team.
Simeon Gordon - Bachelor of Science, Computer Science - Simeon has continued to pursue his degree and a career in cyber security. Since completing our program, he has had the opportunity to take part in a research program at Tennessee Tech University, where he helped to create a program that detects electricity theft and power consumption in smart grids. In addition to working in the College of Charleston's IT department, he is also a member of the CofC Cyber Security Club, and has competed in several competition hosted by the National Cyber League, Raymond James, and SECCDC. He aims to get a cyber security internship during the summer of 2023.
Bianka Fullwood - Multimedia Design and Development, Humber College - Bianka has been developing her portfolio and working in the design industry. She has completed a 12-week animation bootcamp from the School of Motion, helping her broaden her skills and develop her talent as an animator. She's also working as a graphic designer at a printing company, putting her skills to use on client projects.
Noor Elyas - Bachelor of Computer Science, Mathematics & Statistics, University of Toronto - Noor has completed her first year of her Computer Science Degree, adding in a Statistics major and math minor to round out her educational background. In addition to her coursework, Noor has been active in attending tech-focused conferences to explore topics like machine learning, neural networks, and other new applications of computer science, which will help guide her further career pursuits and internships.
We are tremendously proud of each of our mentees, and excited to see the contributions they make to the tech industry and community. Learn more about their backgrounds here.
Want to learn more about the 2023 Reason One Mentorship & Scholarship program? Sign up for updates here!