August 2, 2021
Talk data to me: Using Google tools to optimize your website
---
Summary: Tracking the right data from your website can tell a compelling story about its effectiveness. With Google's robust toolkit and frequent updates, you can clearly see where to make improvements to reach your digital goals.
The data you collect about your website is the key to understanding how effective it is. With the right data, you can tell a powerful story that gets your message heard. And when that happens, a lot of other things become possible, too—like getting people to engage with and support your organization. So how do we do that? Like we said, it's all about the data.
When we're talking about marketing and optimization, we're talking about being data scientists and data storytellers. With accurate data, you can create the story you want others to hear. But it's more than that. The value of data is endless and can help you make leaps in bounds in important areas, including:
Demonstrating ROI
Building trust with your clients/supporters
Proving the value of your work
Developing strong partnerships
Proving the case for bigger budgets
Backing up your decisions
Implementing ideas faster
Data for decision-making and storytelling
At Reason One, we're big fans of the Google toolbox. Here's a quick walkthrough of the tools we find most valuable on a daily basis.
Google Ads
Google Ads allow us to attract potential customers to your website. Think of it as a way to amplify what you do to your target market of users and ensure your appearance in search results. Keep in mind though, this does come at a price that can change depending on current market competition and customer interest in your ads.
Google Search Console
Google Search Console puts a magnifying glass on the behind-the-scenes aspects of your website's organic presence. From here, we can see how search engines view and interpret your website's front- and back-end code. So, if any of your pages are difficult for your users to find, we'll know. We'll also know what search phrases customers use to find your website, and where there are opportunities to optimize your website based on this information.
Google Analytics
This is the bread and butter of measuring website effectiveness. With Google Analytics, we can collect and measure data about your website traffic and user behaviors. Tying this to your overarching business goals, we can zero in on what is driving traffic to your website, how your website is performing, and ways to improve the user experience. Based on insight from the website traffic, we can zero in on where we can improve the user experience.
Google Tag Manager
Google Tag Manager has created a reputation for itself as the tool all digital marketers love to hate. It allows us to track events and conversion points on websites. The beauty of this tool is that it allows non-developers to add tracking codes to websites without deployments. However, it can be a little tricky for those who aren't tech-savvy and best practices are changing daily.
Google Optimize
This is the crazy, fun data lab where our team tests out various hypotheses on real website traffic. These tests include A/B testing, multivariate testing, split URL testing, personalization techniques, and others. This free conversion-rate-optimization tool is the perfect way to test new features, optimize conversion rates, and create a customized user experience on any website.
Yikes! All that data coming from all those sources can really make you feel like your brain is going to explode, right? Don't worry, Google has a solution for that too (of course it does) called Data Studio.
Google Data Studio
Data Studio is a visualization tool that turns data into easy-to-read, customizable dashboards and reports. With it, we report on data from a wide variety of sources, including:
Google platforms and products
Third party platforms
Databases (like BigQuery and ANSI SQL)
CSV files
Dashboards are browser-based and update in real-time—giving you the data you need, when you need it, how you need it. And at Reason One, we can set up a custom dashboard with this information just for your organization.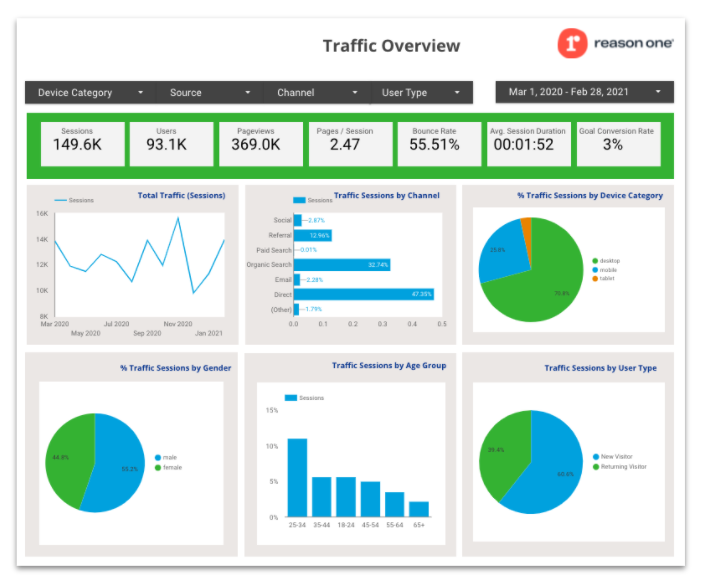 Your dashboard can provide numerous insights, and reflect your organization's brand.
OK, just when you thought we were done, there's one more thing.
Google's Big Algorithm Update
We all know that an optimized website should have a high user experience. And Google knows that too. This year, Google is implementing a major algorithm update and will begin ranking based on user experience. For those unfamiliar, Google uses its algorithm to determine website rankings in its search results.
This change is called the Page Experience Update and it's designed to judge web pages based on how users perceive the experience of interacting with that web page. Basically, if Google thinks users will have a poor experience on your website, your search engine ranking will reflect that.
So, what will determine your Page Experience ranking?
Core Web Vitals
The new Core Web Vitals are the quality signals that will be considered essential to delivering a great user experience on the web:
LCP (Largest Contentful Paint)
This deals with the loading speed of the largest single object on the page. In other words, it's the time from clicking on a link to seeing the majority of the content on-screen.
FID (First Input Delay)
This is the reaction time of the page to the first user input. So, how long does it take before a user can actually interact with your page?
CLS (Cumulative Layout Shift)
This is the measure of how stable the web page content is while loading. Ever been on a website that jumps up and down as it's loading? It's annoying. The lower your CLS number, the better. This means users don't have to re-learn where specific content lives on a page and reduces the risk they will click on something unintentionally.
Your data squad
Phew! That was a lot of data talk. But we're data dorks, so we're loving it. We find that collecting and analyzing the right data results in a much better website. Need help untangling your data or getting the right insights? Contact us today to learn more.