Why Siteimprove is our secret weapon for optimization
---
Summary: For complex enterprise websites, staying ahead of quality assurance, accessibility, and SEO risks can be daunting. By using Siteimprove with our clients, together, we're able to keep their digital properties healthy and evolving.
How Siteimprove works
Siteimprove crawls a website and examines over 200 checkpoints to assess three key areas: quality assurance, SEO, and accessibility. The total performance in these areas is reflected in the Digital Certainty Index, or DCI score, indicating how well the site lives up to quality standards, how discoverable it is for search engines, and if it meets accessibility standards. We're also able to show how our clients' DCI scores compare to similar organizations. Cool, right?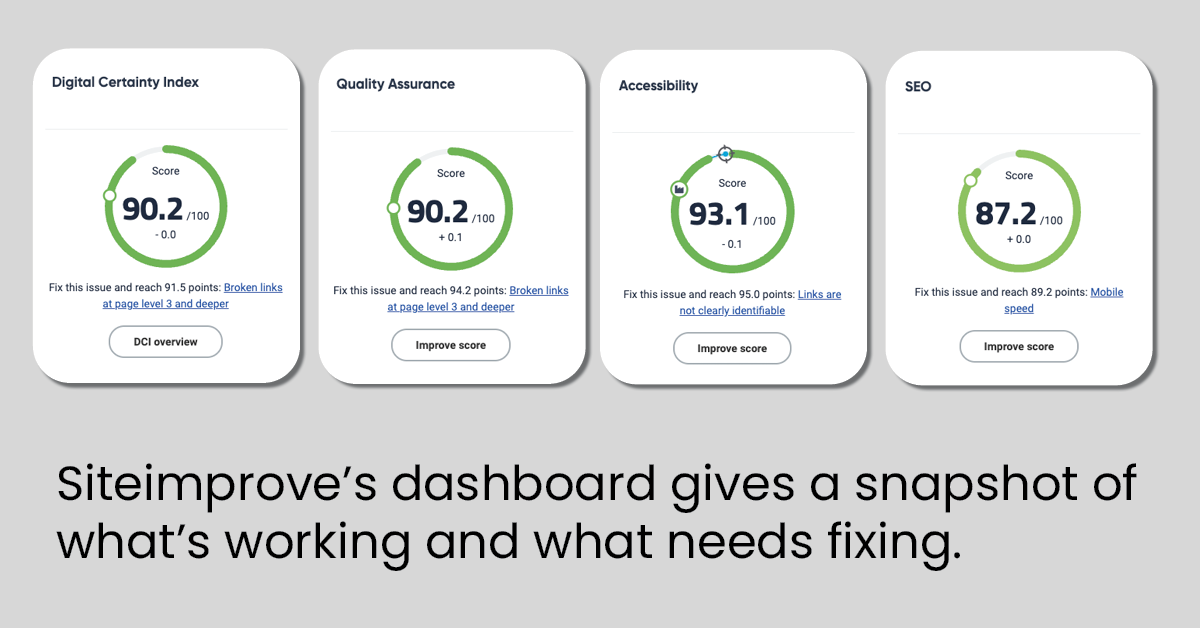 But it gets better—the DCI scoring model is always being adjusted to reflect the changing digital environment so we can stay ahead. And along with the score, Siteimprove offers recommendations to improve your website. Each recommendation is tied to a numerical value—so when you address these issues, your DCI score soars.
Let's break down the three components of the DCI score.
Quality Assurance Score
This score reflects a website's credibility and trustworthiness in areas like content quality, content freshness, user experience, and security. This includes:
Content quality: How quickly and accurately can a user comprehend the page content?
Content freshness: How up to date is the content for retention and engagement?
Security: Do the links direct to safe domains? Is user data protected?
User experience: Is the site easy to use and navigate?
With our clients, we discuss fixing broken links, misspellings, text that is too hard to comprehend, and out-of-date media files.
SEO Score
This score reflects SEO performance within the technical, content, user experience, and mobile aspects of a website. Here's what matters:
Technical: How easy is it for the site to be accessed, crawled, and indexed by search engines?
Content: Is the content usable and is meta content optimized?
User experience: Do embedded links and visuals enhance the user experience?
Mobile: Is the site responsive and adaptable?
Some recommendations we've made for our clients include correcting missing sitemaps, redirecting chains and 301s, low mobile speed, and low word count. Fixing these issues directly impacts a site's search visibility and performance.
Accessibility Score
This score reflects how well a website follows web content accessibility guidelines, including error and warning resolutions. Errors are issues which have been automatically determined as failures to meet success criteria in the Web Content Accessibility Guidelines (WCAG). Warnings are issues which have been automatically determined as failures to meet best practices in the WCAG. The score also takes into account the accessibility level of the website. WCAG categorizes levels of accessibility into A, AA, and AAA, with each level being progressively harder to meet.
Error resolution progress: How have we progressed against resolving the automatic accessibility failure errors?
Warning resolution progress: How have we progressed against resolving the accessibility warnings?
% of low error rate pages: What percentage of our pages have no more than one level A or AA error
Issues we recommend fixing here help our clients work towards compliance with actionable guidelines.
How we're using Siteimprove
Armed with data from Siteimprove, we perform quarterly reviews with our clients to gauge progress over time. And because we're always thinking ahead, we also keep a running list of potential enhancements and special in-depth projects for the future.
Want to learn more about Siteimprove and how we can help protect your brand, create an inclusive online experience, and make sure your website content is in the best shape possible? Drop us a line!