Special care for super kids: Connecting parent, patient & brand for better UX
---
Summary: Understanding the functional, rational, and emotional goals of your audience leads to a more trustworthy — and empathetic — user experience.
The most effective digital brand experiences live at the intersection of your organization's goals and the motivations of your customers.
These business goals symbolize the "whys" of your brand. Why are you in business? Why are your products or services unique?
Meanwhile, needs and motivations are the "whys" of your target audience. Why would a customer need your products or services? Why are they coming to your site?
At Reason One, we think of identity alignment as a two-way street. It's crucial to dig deeper into the motivations behind brand and audience to find connection between the two. When there's deep knowledge acquired and available about the tasks a user is trying to accomplish, as well clear, defined business goals, it's easier to identify where interests align.
Apply all of this insight to design, content, and functionality, and you've created a relatable user experience based on common ground — authentic to the brand's character.
Meet Prisma Health Children's Hospital*
In the case of our friends at Prisma Health Children's Hospital, we were working to align brand goals with parent and patient needs for an energetic site redesign.
During the discovery process of our Children's Hospital project, our team took an onsite tour of the hospital and spoke with staff to understand more about the goals of their team. We quickly learned that the people who work at Prisma Health Children's Hospital didn't see this as just any healthcare job. Their team truly wanted to work with kids and believe it is their calling. It's their mission to provide the very best care for each child, or "special care for super kids."
Through our user research, we learned more about the wants and needs of patient parents as well. These parents wanted care for their children that was professional but that also engaged with kids at their level. They wanted both the body and the spirit to be taken care of. This is what they look for in a care provider — what motivates them.
For the new Prisma Health Children's Hospital website to be successful, the tone, messaging, content, and imagery all had to align with the goals and motivations of the staff, parents, and children. These shared needs and beliefs were reflected in every piece of the new site.
Bringing identity alignment to life
Applying this brand-customer connection to the user experience of a new website dictates how we communicate with our audiences. Here's how we communicated this brand identity alignment with users on the Prisma Health Children's website.
Emotional: Through the Brand, Messaging, and Visual Identity
How does it make you feel? Do they share your beliefs? Do you identify with them?
Rational: Through Content, Media, and Infographics
Do you quickly understand the details, benefits, and logic behind the information or products? Does it answer your questions or concerns and help you make a decision?
Functional: Via User Interface (UI), Features, and Functions
How easy is it for you to accomplish your desired tasks?
Communicate top-down
We prioritize our branding efforts by communicating from top to bottom: Emotional, Rational, and Functional. Emotion, and emotional connection, is how we can align ourselves with the patient parent audience we want to attract and retain.
We begin speaking from a simple place of shared belief, motivations, and identity, which builds trust and makes the brand's audience more open to rational arguments. Once a user — in this case a patient's family member or parent — feels understood and informed, they are more likely to act. This content can translate into conversions, or "wins" in the web world, such as a contact form submission on the Children's Hospital site.
Build bottom up
Frustration online is UX cancer. That's why we prioritized our build of the new website from a functional, then rational standpoint — bottom up on our pyramid. We started by putting key functionality in place, striving to make it simple and easy for users to accomplish tasks.
Here's the hard truth: No one cares how awesome you or your brand are if you make things difficult for them.
A parent visiting the Prisma Children's Hospital website, for example, might be experiencing stress out of concern for their child in need of care. They simply don't have time to figure out complex functionality or look for buried content.
We also build with emotion in mind in order to make the user feel good about the brand, its value, and the actions they take on the company's website. Parents are using the website to vet a healthcare provider for their child. The personality and trustworthiness of Prisma Health Children's Hospital needed to come through quickly and clearly.
Because the best care matters
Right from the homepage, we wanted the design to be fun, colorful, and unique. And as you scroll, the messaging and imagery reinforce that connection.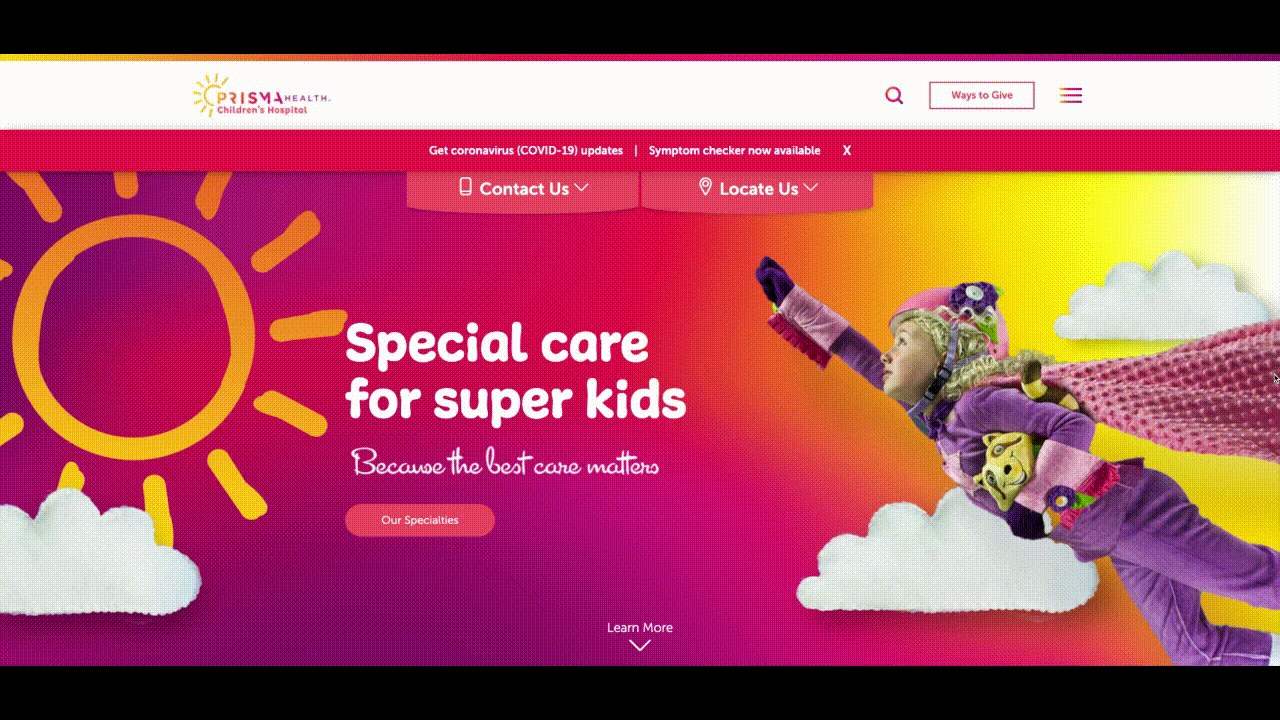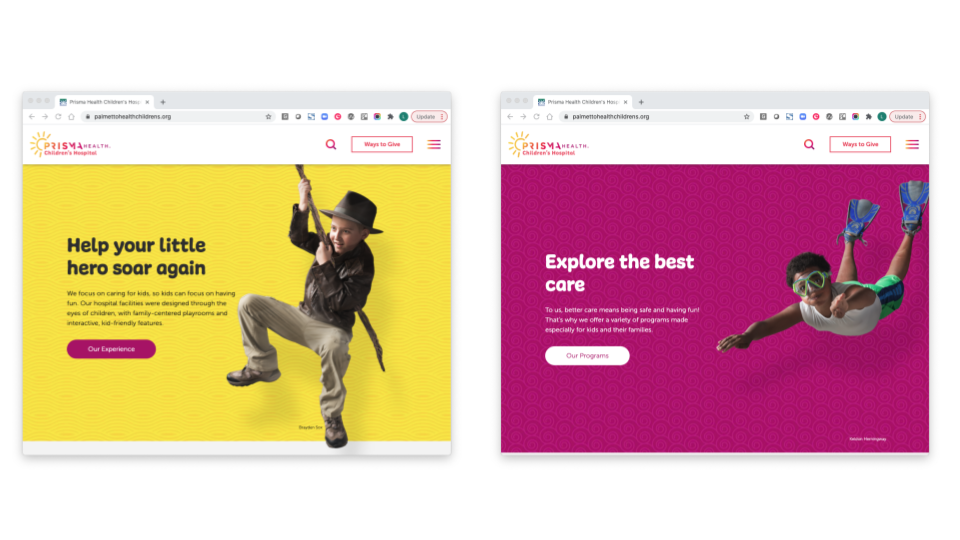 We integrated social content, events, and imagery relevant to kids, so they felt like the website was just for them. We also used animation to make the UX more fun. Now when parents and kids were browsing the site together, it was an interactive experience.
Patient parents were coming to the site for two reasons:
To learn more about the hospital, services, and programs and plan a visit
Or for quick reference, looking for contact info or directions (potentially in emergency situations)
With the knowledge of these functional goals, we made sure that the most popular tasks were easy and obvious and consistently included them on every page of the website. We also created a simple window-takeover menu to make navigation clear and distraction-free.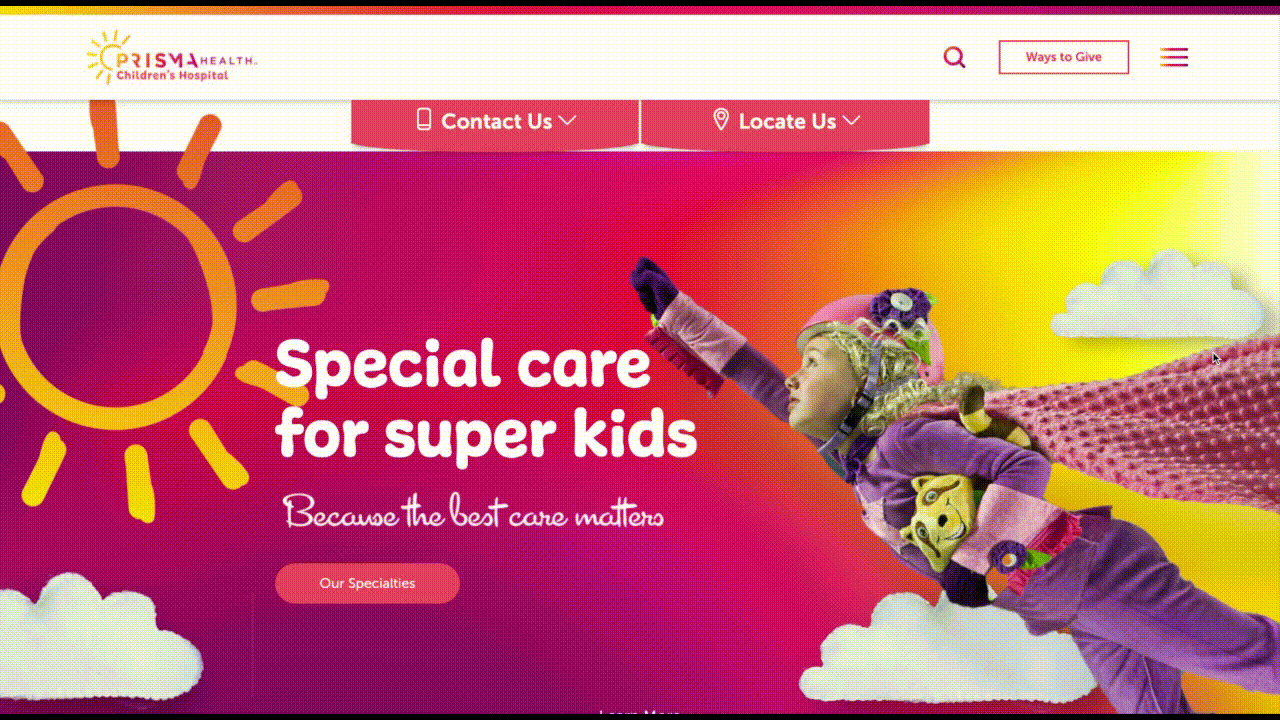 Further down the home page, we included interactive sections for quick access to services such as the Children's Emergency Center and resources like Preparing for a Visit.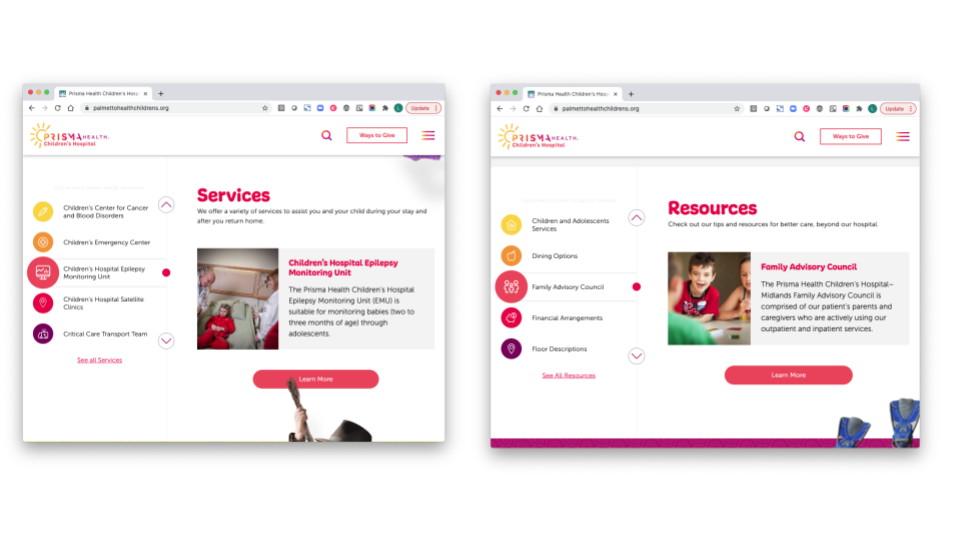 We created engaging landing pages to aggregate important information about the Child Life Experience department and a simple navigational page for quick access to pediatric specialties.
And most importantly, we made sure we had the right information on every specialty page, such as contact and location info, conditions treated, specialty clinics, and the care team.
Now, the Prisma Health Children's Hospital website connects the brand's quality care mission with an easy, intuitive experience for parents seeking the best care for their kids.
*This article was previously published on BlueKeyinc.com in 2018, referencing Palmetto Health, which has since rebranded as Prisma Health.